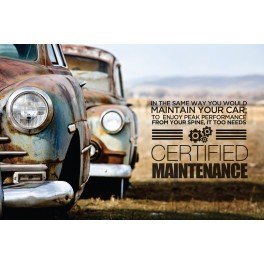 Chiropractic results are best when chiropractic is utilized consistently. Consistency is key! For this reason, many experts compare chiropractic care to brushing your teeth. The following points come from a study (one of many) proving the efficacy and value of chiropractic wellness care!
8 Major Points of the Study:
In animal studies, fixation of facet joints for 4-8 weeks causes degenerative changes and osteophyte formation of the articular surfaces with facet articular surface degeneration beginning at less than 1 week.
Facet joint fixation resulted in synovial fibrotic adhesions that "progressed to mild adhesions in 4 weeks, moderate adhesions in 8 weeks, and severe adhesions after 12 weeks.
In humans, it can be hypothesized that there is a period where the adhesions are forming WITHOUT CLINICAL SYMPTOMS. This would support the common weekly or monthly spinal adjustment despite the presence of symptoms.
Four weeks of joint immobilization has been found to cause a time dependent loss of neurons that become progressively worse thereafter.
Joint immobilization has also been shown to cause muscle weakness, atrophy, and fatty infiltration and deposition into the muscle.
It is demonstrated that the spinal adjustment gaps the facet joints which may break up adhesions, preventing the fibrotic or degenerative process to continue.
There may be a possibility of reversal of the neuronal degeneration and muscular weakness through adjustments and remobilization of the joint.
Research shows that those who utilized chiropractic care before or after pain or symptoms were present, achieved the greatest benefit! Regular Chiropractic check ups and adjustments (when necessary) improves function, prevents future problems, and saves money by addressing the cause.
Click here if you are seeking for a healthier lifestyle and chiropractic care or give us a call and make your new patient appointment. I look forward to seeing you and creating immense value for you. To read up on more health and wellness tips follow our blog here.
*Source: Journal of Chiropractic Humanities. 2011 Dec; 18(1): 74–85.
* ChiropracticAdvocate.com